Introduction
This run is memorable to me personally because first & foremost - this is my first real competitive run in the United States. Secondly I surpassed by best time for a half marathon by about 4 minutes.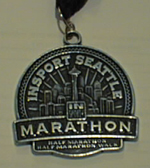 Front of finisher's medal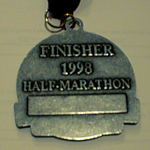 Back of finisher's medal
Lessons learnt
With only 2 weeks of training and a newbie to wet winter competition; I was sure to learn new things. (which is good)
(1) Don't underestimate Seattle's weather.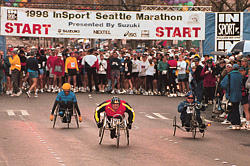 When the run got started; the rain had subsided but it later rained hard during the 2nd half of the run. I got soaked wet. (which leads to the next lesson)
(2) If you're going to wear gloves; make sure you layer on top of it waterproof cover.

My fingers were frozen badly after the run because it was drenched in water.
(3) Powergels are indispensable energy boosters.
| | |
| --- | --- |
| Liquid fuel | Original Powerbars |
I have long known that we should consider eating as an activity to recharge our bodies. This is confirmed further by my introduction to Powergels. In the middle of a run and prefably b4; runners need to constantly replenish lost energy. And what better way than simple little packets of energy in Powergels. They work well in any highly aerobic exercises and I've used them on my recent snowboarding excursion too.
(4) Do not detach the bottom flap from your Number tag if you are going to keep it as a souvenier.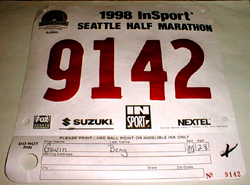 The number tag above is divided into an upper portion containing the runner's number in large font. The small little flap below is collected by the organiser at the end of the run. Since I tore it off b4 the run; they took my whole number tag